More About 2018 Mundulla Show Events
SATURDAY
Saturday is the official Show Day with plenty to see and do. Show goers will find all the usual events and competitions you would expect to see at a country show: sheep and cattle judging, yard dogs, vintage machinery, show rides plus many, many trade sites and food vendors to please any palate.
In the Mundulla Hall, just a short walk away, is a great indoor show with hosts of prizes to be won (click Hall Competitions to view). Cookery, needle crafts, art and fruit, veg and flower competitions are well supported, plus the local school display is always a winner.
There is free entertainment on offer all day for the children in the children's. Also free for kids are the Bunyip Trail, pony rides, a wind tunnel and the sandpit dig.
For those a bit older, this year we will feature Laser Tag, as well as the ever popular show rides.
Need an early breakfast? Look on the far side of the oval where bacon, eggs and coffee will be on sale between 7:00 and 10:00 am.
SATURDAY NIGHT
Saturday night the grounds light up with some unusual events based on our theme "UP, UP and Away". Horses Under Lights and the Farmers Team Challenge are always popular and this year wood chopping will be continuing into the evening, too.
Horse events are a major feature of the Moot Yang Gunya Festival extending over the whole weekend. Events include show jumping, dressage, hacking and show hunter events, plus the annual Stockman's Challenge. See Horse Competitions Page
SUNDAY
The Sunday Program starts with the Blessing of the Horse at 7:45am on the main oval, followed by an entire day of show jumping and Horses-In-Action while down in the Moot Yang Gunya Swamp, the Stockman's Challenge continues.
General Information About Mundulla Show & Show Society
Find Us On……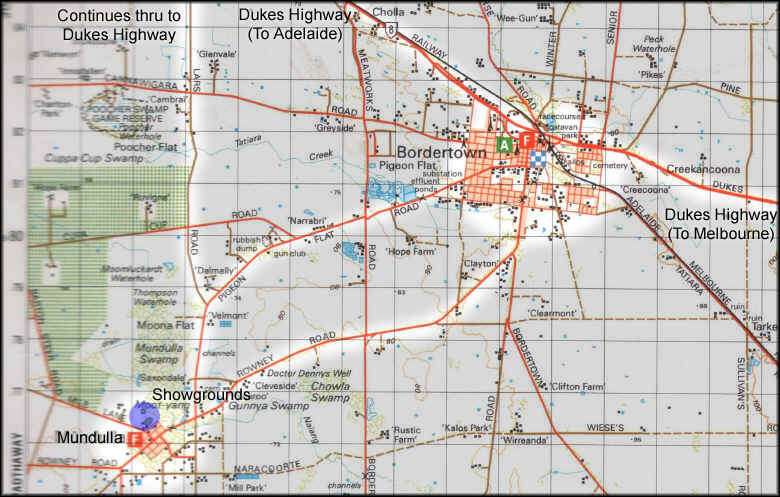 Click here to download a map of the showgrounds (Showgrounds_Map.pdf)
Click here to download a map of Mundulla (Mundulla_map.pdf)